War in Peace at BattleHaven
Salutations, Wargamers!
Captain Morgan is back again to tell you about an awesome experience I had going to BattleHaven over the Labor Day weekend.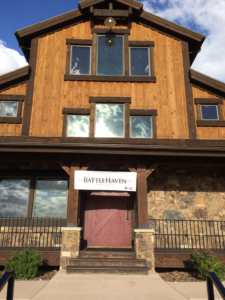 Some of you guys might remember our interview with Rich and Andrea a while back on the show, and now I come back fresh off the event, and let me tell you it was a fantastic experience. I'll break it down for you here, because if you are looking for a way to get away and get your game on without all of the fuss and pressure of a convention, then BattleHaven is definitely where you want to be.
The Location
BattleHaven was hosted at the Silver Springs Lodge in Heber City, UT for its inaugural event, and definitely fit the spirit of what BattleHaven is supposed to be: a retreat. Nestled around the Rocky Mountains, Silver Sprints Lodge had a great balance between being far enough away from the bustle of a city to feel like a resort, but close enough that you could get to civilization after a short drive. While convenient, the truth of the matter is that while there I never felt like I needed to go anywhere for anything, as everything I needed was right there at the lodge. The staff were extremely helpful and very attentive to make sure that all your needs were met. Shannon and Sarah were always ready and prepared to facilitate a good time for all of the guests. Their years of experience showed in their preparedness and commitment to everyone's experience.
So far as features go, it was decorated as a western lodge, though not garishly decorated or with any taxidermy, but was comfortable. The main hall was where we set up all the tables full of specially made terrain. Downstairs there were several painting demos, ping-pong and pool tables, and a large, fully-furnished indoor theater. There were two levels of rooms above the main floor where we stayed. Outside there was a gated pool and hot tub open to us whenever we wanted, with plenty of patio space. In the brisk early-autumn air surrounded by the mountains, it was extremely comfortable indoors and outdoors (which is saying something for me, as I am an indoor creature). In addition, there was a private man-made lake where you could kayak or take a boat out on, though I was too immersed in the gaming to ever make it out there. One night for dessert after dinner we roasted marshmallows and made smores by the fire pit.
The Food
I have to be honest here, this is my favorite part. You guys may have seen some of the photos I put up on the FB page already, but you have got to check out the fantastic, themed meals that were served. Andrea (who was on our interview) is a professional caterer, and she certainly lived up to her reputation as a fantastic cook during the course of the weekend. While there were scheduled meal times, the kitchen was always open if you were hungry.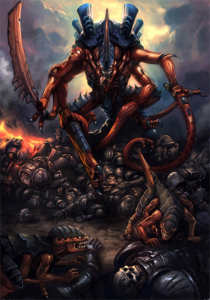 Everything was made from scratch (even the hamburger buns). For breakfast you could have any kind of eggs you desired, and there was a pancake bar one morning as well as homemade biscuits and gravy. Lunches were great as well. One day I got to build my own grilled sourdough sandwich with freshly fried potato chips, and another day I had a burger thick enough to use to measure unit coherency.
The dinners were the stars of the show, and each was themed off of a faction in 40k. There was the Space Marine dinner on the first night served in dishware made of terrain, then the Eldar meal was served under the lights of LED webway gates. The Chaos Brisket was slow-roasted and smoked all day (don't worry loyalists, I had it blessed before eating, but I stayed away from the Slaaneshi Slaw all the same). The final dinner was Tau Sushi (as delicious as I hoped) with fresh-made pot-stickers, fried rice, chicken breast, and asian noodles. I'm pretty sure that even the hive mind could not consume as much food as was there. This was all included in the ticket package for every level, and based on the quality and quantity of food, it was quite a bargain.
The Gaming and the Hobby
Nice place? Check. Biomass? Check. But why do you go to a place like BattleHaven? For battles! Gaming at BattleHaven was very fun and very laid back. I had the chance to go to LVO and Adepticon this year, and I had a fantastic time at both events. While both of those were very fun, they were also extremely exhausting as the schedule of gaming was intense. BattleHaven was much more relaxed, and I got to game when I wanted and how much I wanted. The tables were made by the guys at 40k Amateur Hour, and were very fun and thematic for several game types. There were armies on display that you could just pick up and play if you wanted to try something new. There was a Zone Mortalis board that was hand-cast, as well as a demo for Wild West Exodus. People were playing 40k, Age of Sigmar, Infinity, Wild West Exodus, X-Wing, SW Armada, and board games like Zombicide, Game of Thrones, and Munchkin.
The people to play with were great as well. I got several games in, and in a variety of play styles. I can adapt to several different modes of play, and as such I had a real good time trying several different modes of play. My first game was against Thomas Hegstrom Oakey, a very competitive player and extremely skilled in a variety of formats (ITC or otherwise). I also had a chance to try out Zone Mortalis in a 2v2 team game. Additionally, I had a fantastic game against Bruce (one of the BattleHaven staff) where we just brought some fun units out and ended up with a very close game where each of us only had a handful of models left at the end.
On the hobby side, there were drybrushing, airbrushing, and weathering painting demos. People were set up wherever they wanted to paint or talk hobby techniques, and Thomas and I even started drafting up some alternate missions types for competitive 40k. There was always something fun going on and something to do, but if you wanted to sit around and watch a movie in the theater downstairs, you could do that. If you wanted to get your stuff out and paint, you could do that as well. Several people brought their wives and significant others.
The Battle is Over… For Now
I have to admit, going back to the real world was a complete drag this last week. I am happy to give BattleHaven the A+ it deserves for delivering a fantastic hobby experience. If you are interested in next event, check out their website here and stay tuned for updates on the next year. If you are looking for a hobby getaway full of good times, good food, good scenery, and good people, then BattleHaven is the retreat that you're looking for. I would like to give them a big "Thank you!" for inviting me out to their event, and I'm definitely looking forward to next time!
Cheers!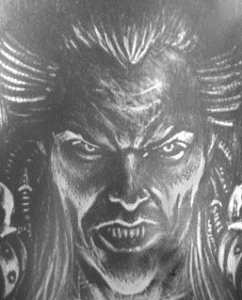 Captain Morgan