FTN Episode 203 – Alpha Legion Infiltrate Every Chaos List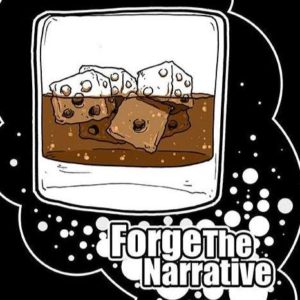 We do a little hype for Warzone: Atlanta this episode.  We get to talk about two great sponsors for this event before getting it our 40k chats.  As we see more codexes come out we discuss what you'll lose if you decide to blend factions.
Hi All,
If you haven't already, please check out the FTN 8th Edition Missions.They will make your games of 8th edition more competitive and fun. They are even in a ready to go tournament format.
We open the show talking about a couple of sponsors for our event Warzone: Atlanta.  We've  mentioned it before but Impudent Mortal is still running their 20% off promotion on their RUST line until the end of the month.  Use promo code Warzone20 to save!
Pop Goes the Monkey joins the sponsor fray this week!  These guys have an awesome Shapeways store with tons of custom accessories you can't find anywhere else.  We have personally used them and they are great!  Please support the guys that support us.
In the middle of the show Paul gets the pleasure of speaking with Pay Meyer, one of the minds behind the Table of Ultimate gaming.  They have a KickStarter going on right now.  It full funded in the first 5 minutes.  That really speaks to the quality and design of this table.  Please check out the pics below and their KickStarter page!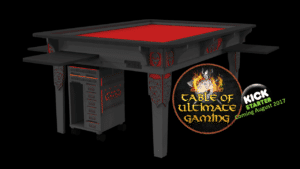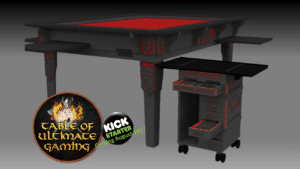 The Finishing Moves segment is sponsored by Frontline Gaming. Their new mats are now hot off the presses and getting ready to be shipped. Please check them out, even if you already have a game mat. Their new styles are very impressive. If you haven't already get your tickets NOW for the mega Las Vegas Open.
There is just a half of a Finishing Moves this week.  Paul talks about panting a harlequin Death Jester.  Don't make the same mistake he did! Ha.
Don't have iTunes? Use the player below to access the podcast directly, or add our feed to your favorite player. The player link is below. Please subscribe if you like what you hear.
Podcast Link
Thank you and Enjoy!
Forge the Narrative is mostly a Warhammer 40k Podcast. Each episode is about an hour long. This ideally gives you something neat to listen to on your way to work, or on the way back home. Maybe you can even listen while you are painting or modeling!
FTN mostly focuses on 40k, but again you will see in the first few episodes we take a severe deep dive into nerdom. These have been a blast to record and I hope they help pass the time for you.

Credits:
Paul Murphy – Host
@warmaster_tpm
Panelist:
Justin Troop – troopsmash
Christopher Morgan – captain morgan
Adam Abramowicz – Beyond the Brush Studios
Andrew Whittaker
Podcast: Play in new window | Download